Tech-Artists Org 2.0
Posted on Wed 29 March 2017 in blog
After several months of behind the scenes work, Tech-artists.org has a new face.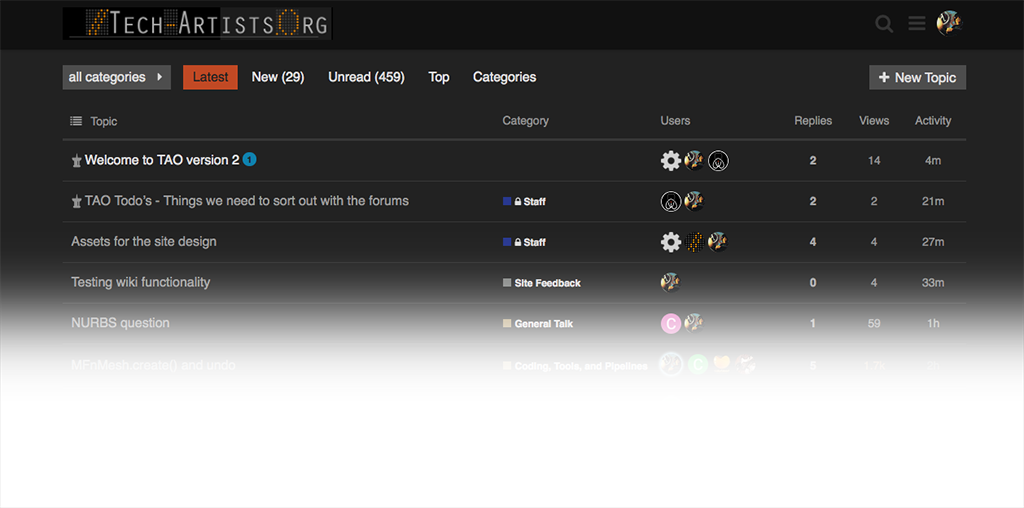 We've moved the site to a cloud-hosted Discourse server, replacing our wonky old VBulletin forums with a swanky, mobile-friendly front end. It's a much more pleasant reading and writing experience, and it uses the same Markdown syntax as this blog and GitHub, which makes adding code examples approximately 17 million times easier than the old VBulletin way.
If you're already a registered user you should check it out. New users are more than welcome (and we've added easy sign-in with either Google or Github credentials).
This is a great time to get involved the tech-art community as we clean up and modernize the site. Hope to see you there. And, if you've missed out on it, don't forget to join the chatter in the Tech-artists slack channel too!
Hat tip to +Rob Butterworth and +Jeff Hanna for helping put this all together — and of course to +Rob Galanakis who got the whole ball rolling in the first place.